Photo-Functional Materials

Printight® Sign plate
A Photopolymer plate with excellent transparency and processability
Printight 'Y' type is a brand developed specifically for use as sign plates by taking advantage of the uneven shape of the plate itself after plate-making.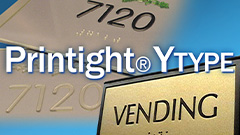 Features
Polymer with excellent transparency.

Ideal for sign plates, offering flexibility in decoration and processing.
Finest image reproduction

Due to its accurate replication of the negative film image, it is versatile for a wide range of design applications
Easy plate-making

The plate can be processed easily in a short amount of time.
Inquiries about this product
If you have any questions or concerns about our products, please contact us here.
Inquiries by phone
Photo-Functional Materials Sales Section
+81 6-6348-3062
08:45 AM - 5:30 PM (JST) - Monday to Friday.
Photo-Functional Materials lineup