Photo-Functional Materials

Water-washable letterpress plate
Printight® Pad plate
A water-washable letterpress plate for pad printing
The polymer used is highly photo-crosslinked, and has excellent physical and chemical properties. The plate is compatible with both sealed cup type and doctor blade type. The plate achieves high printing durability.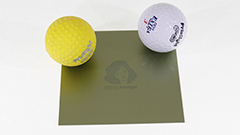 Features
Easy plate-making

The plate can be easily processed in a short time.
Water-washable Process

No solvent such as alcohol is required; the plate can be processed with a normal tap water at room temperature.
Excellent Reproducibility

It has excellent printing performance for small dots and thin lines, and has a fine line resolution of 100μm.
Inquiries about this product
If you have any questions or concerns about our products, please contact us here.
Inquiries by phone
Photo-Functional Materials Sales Section
+81 6-6348-3062
08:45 AM - 5:30 PM (JST) - Monday to Friday.
Photo-Functional Materials lineup