VYLON® HARDLEN®

Tackifier for polyolefin
HARDLEN®
It is a chlorinated or acid-modified polyolefin resin that has revolutionary adhesive strength to polyolefins, especially polypropylene.
We provide materials suitable for processing plastics such as painting, printing, and gluing. In particular, polyolefin is considered to be a material with high crystallinity that is difficult to adhere to, but HARDLEN® is the most suitable adhesion improver for spray and gravure coating.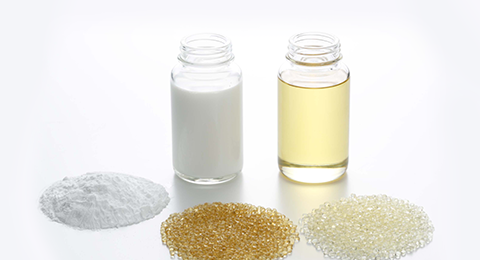 Features
Adhesive strength without surface treatment required

Demonstrates adhesive strength to polyolefin without surface treatment such as corona treatment or flame treatment.
Can be used as various adhesives

By blending with other resins, it can be used as a variety of adhesives, such as pigment-dispersed paint primers.
Applications
Vehicles such as hot stamping inks and UV inks. Paint primer for PP bumpers, paint primer for auto parts, paint primer for hubcaps, flocking adhesive, 1 coat paint. It is used to bond PP film and printing paper, bond PO molded products and sheets together, and make calendars, posters, and magazine covers. We also offer full and partial coating of PP film. Adhesive for lithium ion battery aluminum laminate film, suitable for dry lamination. (Composition: CPP/HARDLEN®/Aluminum). The adhesive strength after electrolyte immersion is 6N/cm.
Inquiries about this product
If you have any questions or concerns about our products, please contact us here.