VYLON® HARDLEN®

Hot melt adhesive for polyolefin
HARDLEN®
This resin is made by acid-modifying polyolefin and has adhesive strength between polyolefin and metals. It can also be blended as a compatibilizer for inorganic material-reinforced polyolefins.
We provide materials suitable for processing such as painting, printing, and bonding of plastics. It can be used for hot-melt processing, and can also be used as a compatibilizer for fiber-reinforced plastics.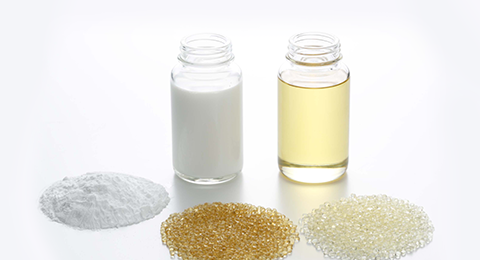 Features
Adhesive strength without surface treatment required

Demonstrates adhesive strength to polyolefin without surface treatment such as corona treatment or flame treatment.
Can be used as various adhesives

By blending with other resins, it can be used as a variety of adhesives, such as pigment-dispersed paint primers.
Products with less unreacted substances and low molecular weight substances

This product contains extremely few unreacted substances and low-molecular-weight substances.
Applications
Hot melt adhesive for aluminum foil and polyolefin film packaging materials. Laminating adhesive for multilayer films. Compatibilizer for reinforcing polypropylene with talc, filler, etc. Compatibilizer for glass fiber reinforced polyolefin. Compatibilizer for wood polyolefin. Compatibilizer for fiber reinforced plastics.
Inquiries about this product
If you have any questions or concerns about our products, please contact us here.